The Nissan March
Please help us in welcoming the newest member to our fleet: The Nissan March, or better known as the Nissan Micra in the European market.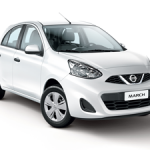 Classed as a Super Mini car, it is compact and stylish, all in the same package. Excellent as a city car and easy to park because of it's size, but as a drawback it does not offer a lot of space for your suitcases. Perfect for a small family to enjoy a nice day at the beach, go restaurant hopping or even check out the nightlife on the island of St. Maarten. After having a peek at what Wikipedia and Top Gear had to say about the car, it doesn't have the "Cool" factor that some people look for, but is very economic on your wallet and comes in a stylish shell.
Depending on what time of the year you want to come and visit the Sweet St. Maarten island, the price of renting this car is also very enjoyable. Starting at $26 per day or $125 a week in the low season (April 15th until December 14th) and $35 per day or $180 per week in the high season (December 15th until April 14th) without taxes it is definitely not priced to be a budget breaker. And as is customary with Next Level Car Rental, the longer you rent the car, the better the daily price gets!
For example: If you rent the car in the low season for one day, the daily price is $26, but if you rent it for eight days, the daily price drops to $21… And if you go for, for example 26 days, it gets as low as $18 a day!!! So staying longer for your vacation does not have to be a burden, because by Next Level Car Rental, you get rewarded for doing so. That way, you can spend your money Enjoying your vacation the way it was meant to be spent.